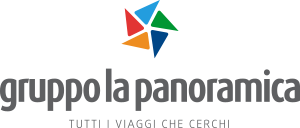 La Panoramica s.n.c. - founded in 1948 - manages the urban transportation in Chieti (Italy) since 1973. During these six decades of experience, the company expanding and diversifying the business, established Gruppo La Panoramica, consisting of seven divisions: Satam Bus Operator , intercity bus and coach hire services; Satam Incoming Abruzzo specialising in quality trips to Abruzzo; Satam Eventi e Congressi, specialising in the planning of business trips, meeting, congresses both for public and private organisations; Partinsieme , tour operator specialising in quality tours in Italy and abroad; Satam Viaggi and Teate La Panoramica, intermediary agencies, located in Pescara and Chieti, that provide travel and tourism related services to the public; and last but not least the newly branch History&Geo Tours, that allows to offer a wide range of tourism and traveling services.
The company employs 120 people - including managers, professional personnel and guides, drivers and mechanics. It has an own vehicle fleet consists of 70 vessels among well equipped and comfortable city bus and tourist coaches, which cover 10.000 km per day and carry more than 4 million passengers every year.
Hire Coach
Since the beginning, the company focused its business mainly in the tourism transportation, bly believing in the importance of the coach tours. Throughout its history, the SATAM Bus Operator has always pursued its primary objective: to provide a reliable and high quality services, continually ensuring a competitive pricing, to its clients, such as tour operators, school and military groups, associations and sport teams.
Today the company offers a wide range of road transportation and travel solutions for reaching any destination in Italy and all over the Europe.

Our Fleet
The SATAM Bus Operator has an own fleet consisting in 10 vessels among mini and touristic coaches, all based on the highest comfort and safety standards. Furthermore they respect European Emission Standards and they all are classified Eco 5 and ECO 6.
Each vehicle, coming from Setra, the German bus division of EvoBus GmbH, itself a wholly owned subsidiary of the Daimler AG, is equipped with a range of amenities and fittings, such as innovative system for heating and air-conditioning, a secure and functioning WiFi operating thanks a modern Coach MediaRouter, a MultiVideo/DVD system, LCD monitors, USB ports, hot drink machine, frigobar and toilette. Moreover, among the high levels of comfort of our coaches, stand out the amazing feeling of spaciousness and the ergonomic, sturdy and reclining seats. The highly advanced systems and technology of our coaches make travelling with our company a dependable, safer and more comfortable experience.
Moreover, SATAM has an own bus/coach - repair workshop, in which are employed highly trained and skilled mechanics. However, one of the best our business features is the 24 hour/7 days breakdown service and the convenience of coming to our travelers during the tours all over Europe.
The SATAM Bus Operator, to control the quality of its management system, yearly renews and obtains ISO 9001:2008 certification released by RINA Spa.
We daily guarantee our passengers' wellbeing.
If you are going to travel with our company, please contact our staff the get a quote.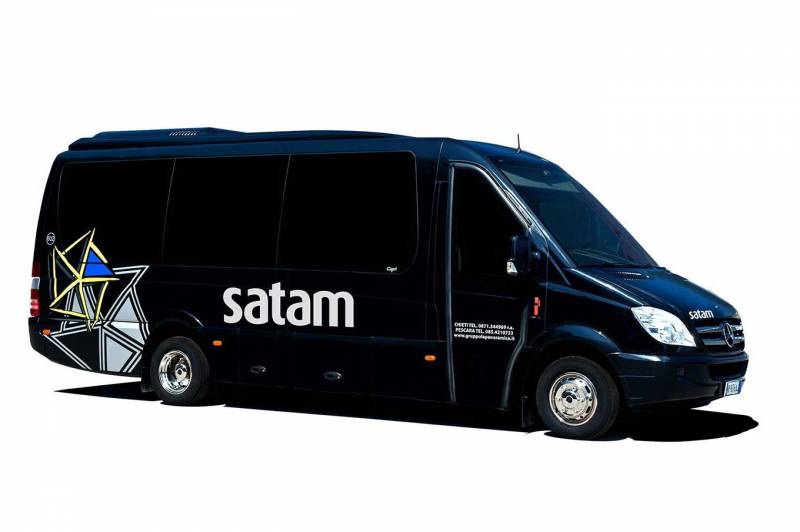 Mercedes Sprinter
18 seats + 1 driver
Air Conditioning system - Reclining Seats - MultiVideo/DVD Device - Hot drink machine - Frigobar - Toilette - GPS System - Wifi - Sockets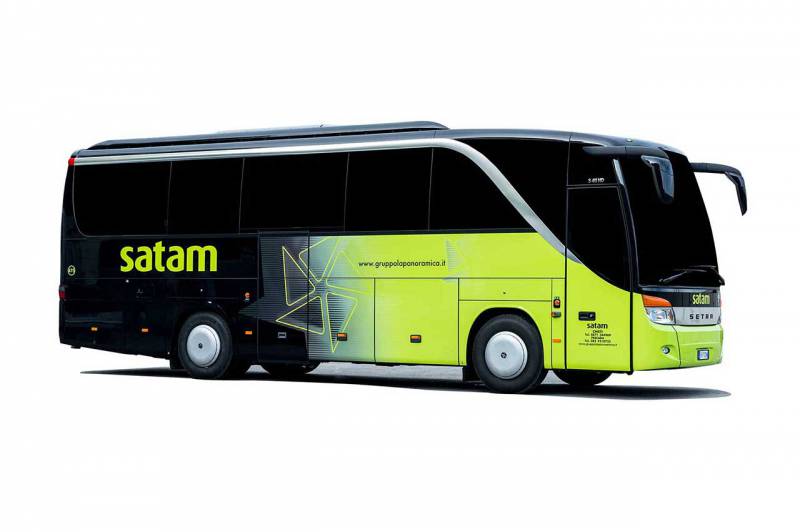 Setra 411 HD
40 seats + 1 driver
Air Conditioning system - Reclining Seats - MultiVideo/DVD Device - Hot drink machine - Frigobar - Toilette - GPS System - Wifi - Sockets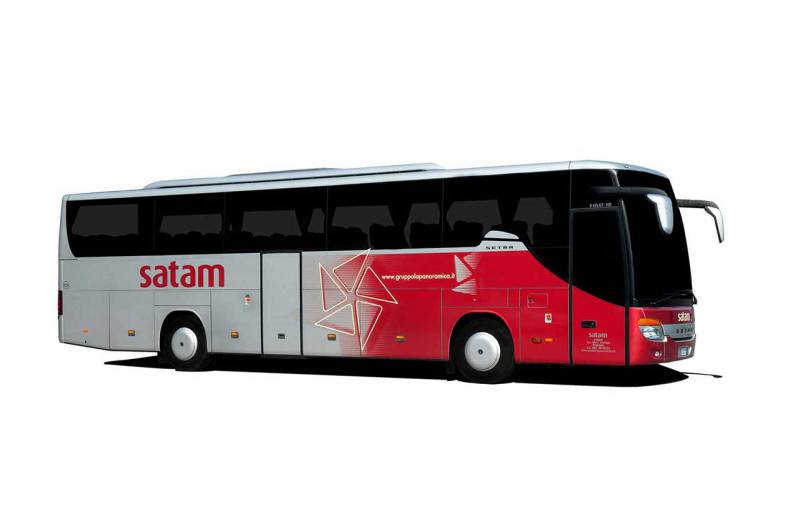 Setra 415 GT
50 seats + 1 driver
Air Conditioning system - Reclining Seats - MultiVideo/DVD Device - Hot drink machine - Frigobar - Toilette - GPS System - Wifi - Sockets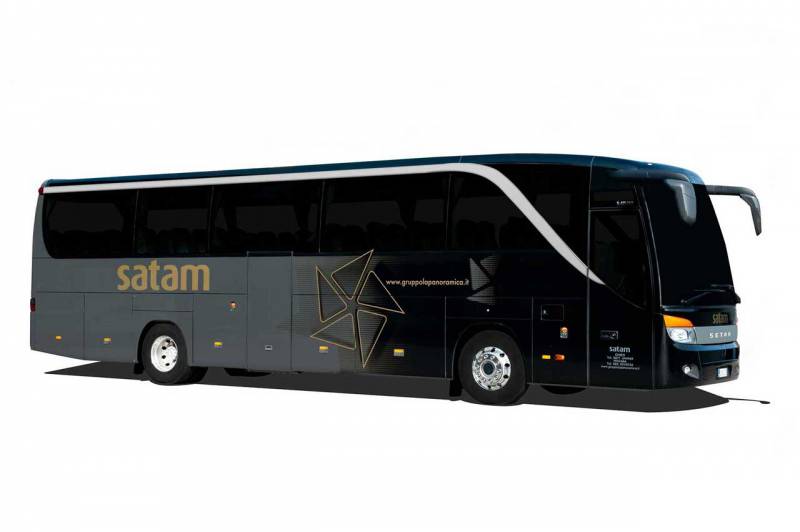 Setra 415 HD
50 seats + 1 driver
Air Conditioning system - Reclining Seats - MultiVideo/DVD Device - Hot drink machine - Frigobar - Toilette - GPS System - Wifi - Sockets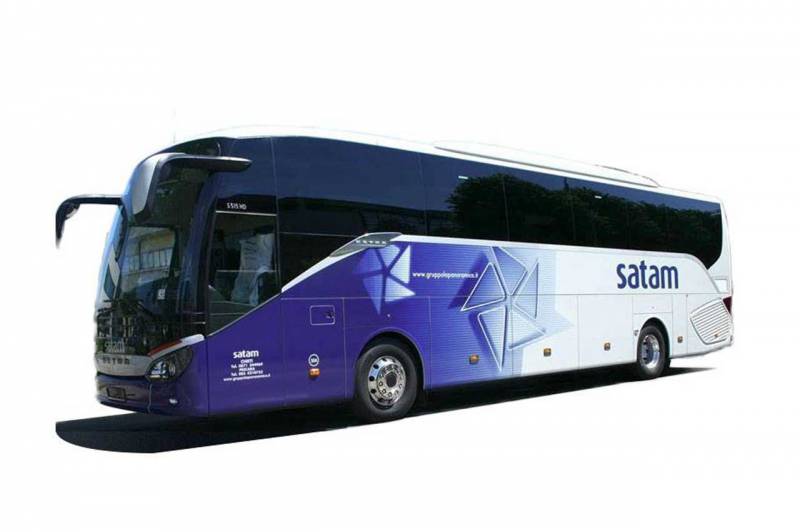 Setra 515 HD
50 seats + 1 driver
Air Conditioning system - Reclining Seats - MultiVideo/DVD Device - Hot drink machine - Frigobar - Toilette - GPS System - Wifi - USB Ports - Sockets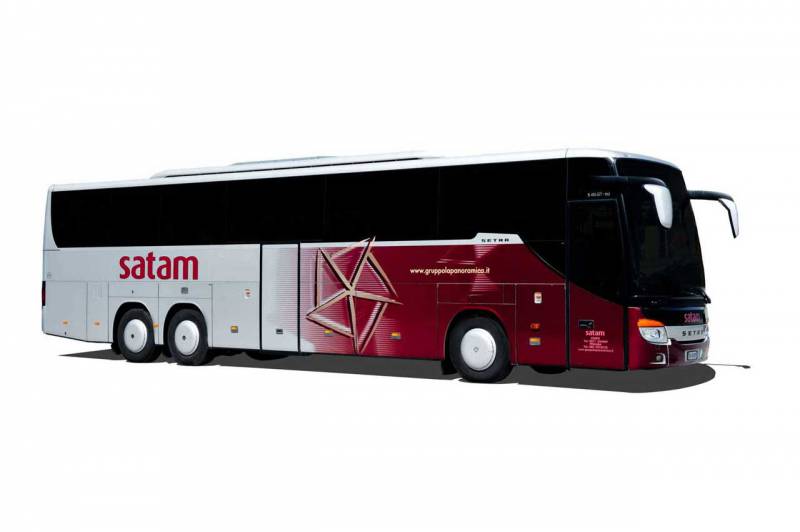 Setra 416 GT-HD
56 seats + 1 driver
Air Conditioning system - Reclining Seats - MultiVideo/DVD Device - Hot drink machine - Frigobar - Toilette - GPS System - Wifi - Sockets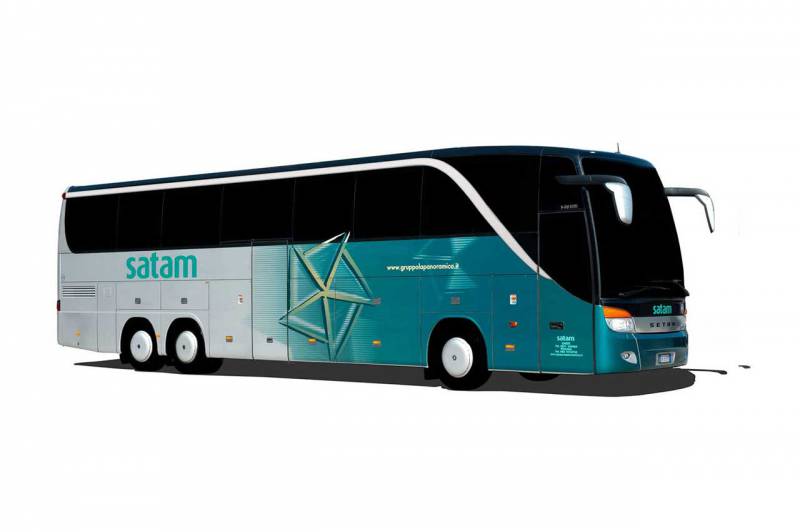 Setra 416 HDH
56 seats + 1 driver
Air Conditioning system - Reclining Seats - MultiVideo/DVD Device - Hot drink machine - Frigobar - Toilette - GPS System - Wifi - Sockets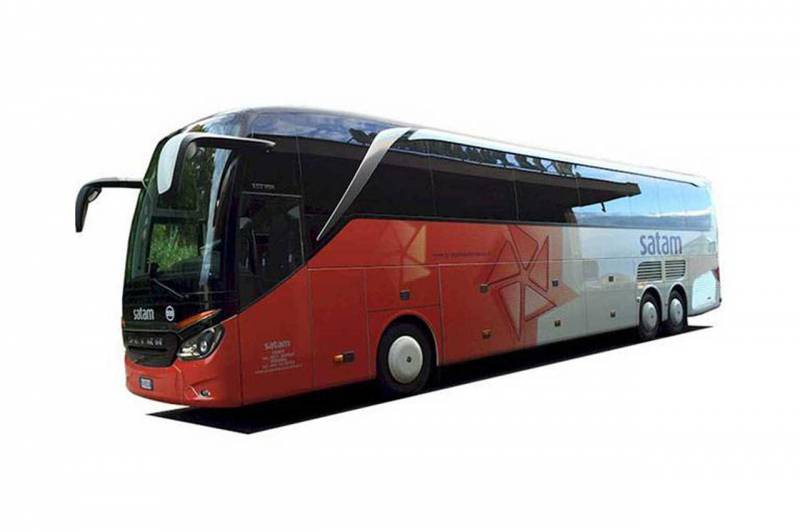 Setra 517 HDH
60 seats + 1 driver
Air Conditioning system - Reclining Seats - MultiVideo/DVD Device - Hot drink machine - Frigobar - Toilette - GPS System - Wifi - USB Ports - Sockets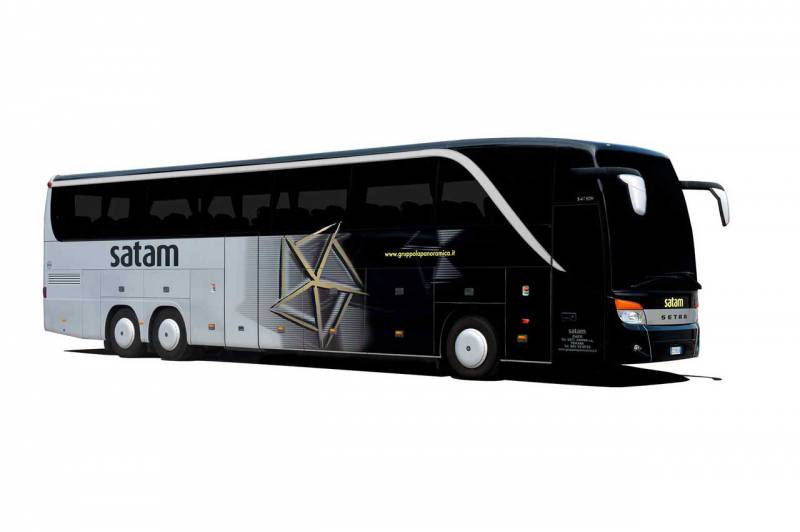 Setra 417 HDH
60 seats + 1 driver
Air Conditioning system - Reclining Seats - MultiVideo/DVD Device - Hot drink machine - Frigobar - Toilette - GPS System - Wifi - Sockets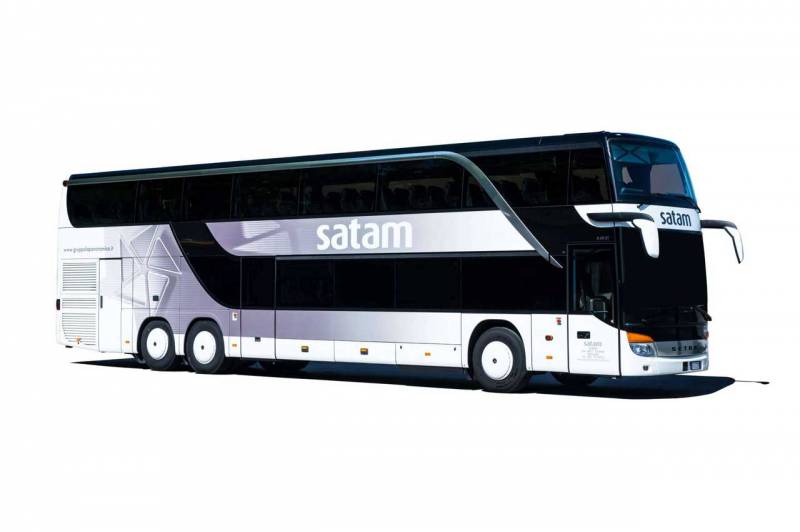 Setra 431 DT Double-Decker Coach
80 seats + 3 drivers
Air Conditioning system - Reclining Seats - MultiVideo/DVD Device - Hot drink machine - Frigobar - Toilette - GPS System - Wifi - Sockets